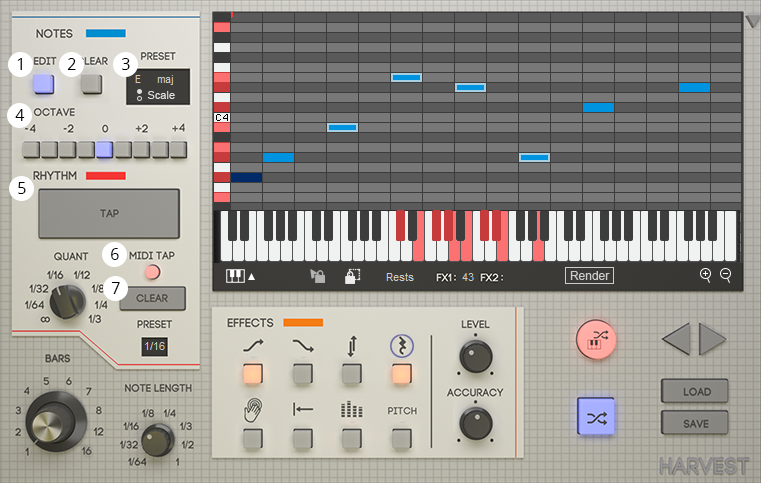 Add/Edit

Use the onscreen keyboard or MIDI input to add or remove notes to be randomized.

Clear
Preset

Pre-existing note selections, broken up into chords and scales.
Octave

Duplicate note selection across upper and lower octaves.

Tap

Tap while host DAW is playing to create rhythmic patterns.

MIDI Tap

Allows use of a MIDI device to tap in rhythms.

Clear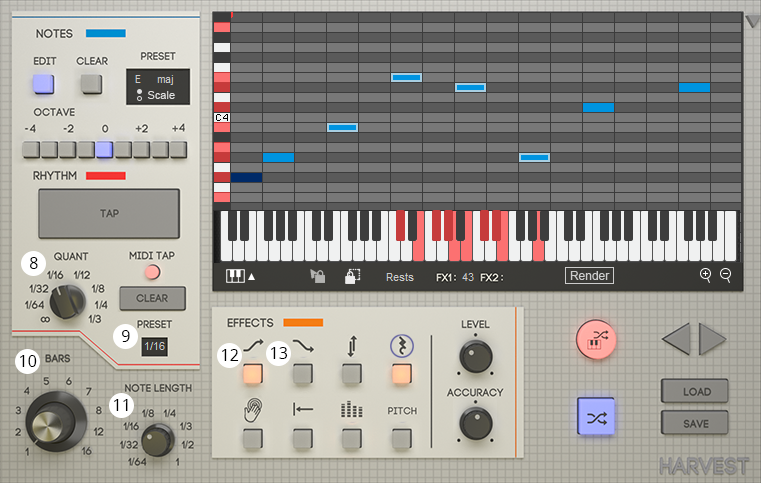 Quantize

Limit grid timing to specific intervals.

Preset
Bars Knob

The number of measures your sequence will be.

Note Length

The duration of each beat entered.
Ascend

Melodies will trend upwards
Level – Adjusts chance of an upwards sequence.
Accuracy – Adjusts chance of hitting every note on the way up.

Descend

Melodies will trend downwards
Level – Adjusts chance of a downwards sequence.
Accuracy – Adjusts chance of hitting every note on the way down.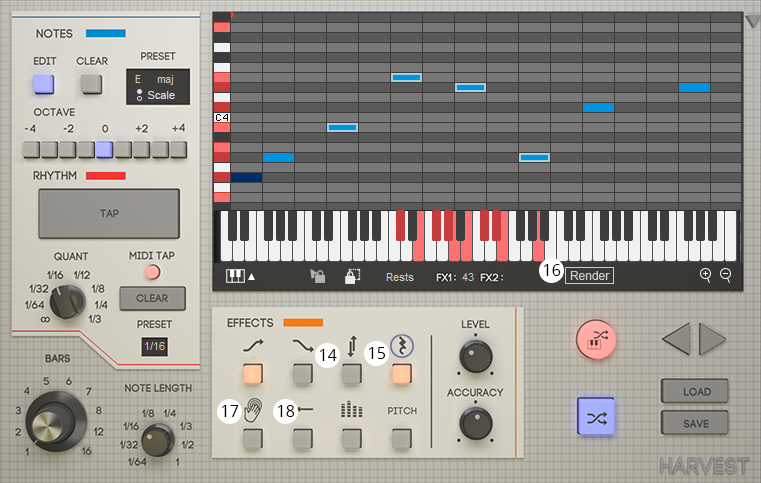 Chord Spread

Notes played at the same time will be spread apart
Level – Adjusts how close or far apart the notes will be
Accuracy – Adjusts randomness of the spread

Chance of Rest

Gives the chance of a note being absent. Use this to randomize your rhythms.
Level – Adjusts chance of rests.
Render

A rhythm that has been created using the rest effect can be preserved by clicking Render.

Humanize

On click, all notes will randomly shift in timing
Level – Adjust the amount of the spread.

Start Point

While active, any note clicked becomes the first note in a sequence. This changes the starting point of a sequence, by shifting it.
Individual Note Probability

Individual notes can be chosen to increase or decrease their probability
Level – Adjusts chance of note selected appearing
Accuracy – Adjusts chance of note selected being repeated

Pitch

Change pitch of sequence.
Level – Increase or decrease pitch by 1 semitone increments.

Piano Roll Grid

Double click to add a note. Click and drag to move notes. Hold ctrl or cmd to select multiple notes.
Piano Toggle

Toggle visibility of on-screen keyboard.

Lock

Notes that are "locked" will not be affected by regenerating the sequence.

Lock All
Zoom In/Out

Adjust number of bars visible on screen.
Live Mode

Harvest accepts chord data from MIDI device or from the MIDI track, and arpeggiates using the chosen rhythmic pattern.

Regen
Undo/Redo

Navigate up to 30 past melodies.

Load

Import existing MIDI sequences to be reimagined with Harvest. Notes Selected and rhythmic timing are retained.
Save

Save MIDI file to custom directory.

Settings