Tired of Writer's Block?

When inspiration won't come, don't get frustrated or procrastinate. Meet Harvest, a plugin that gives you a new approach to writing music. Add randomization to your workflow, but keep in control of your own style.


Founder's Price :
$54 $36 (35% savings)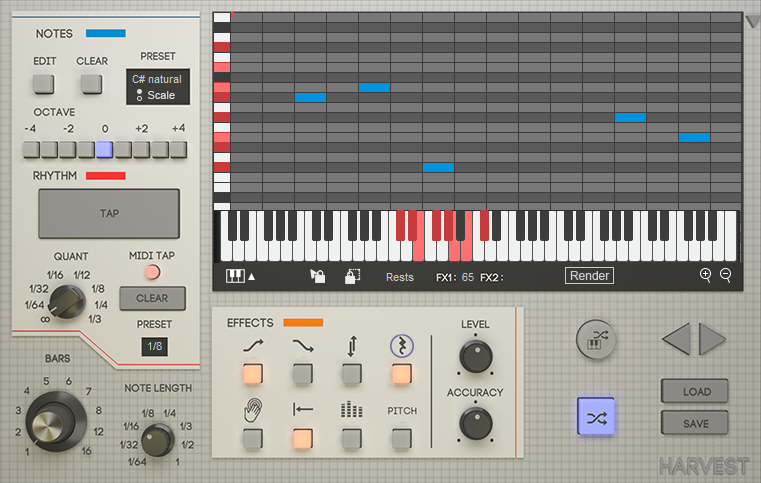 Stop Running Out of Ideas


Writer's block is one thing all songwriters have in common, causing many to procrastinate. Harvest is a plug-in designed to be a source of inspiration any time you need it, so you can spend less time being stuck and more time putting in work.



Workflow
Select Notes and Tap Rhythm

Select a preset scale or create one completely custom

Dial in Settings and Effects

Specially designed effects to control randomness creatively

Pick the best of the results

Listen to the generated melody and use your ear to choose your favorites

The Groundwork For Something New
Harvest allows intuitive entry of notes and rhythm, making it easy to define your style
The first stage is to choose a selection of notes you want to be used in your sequence. This can be done with a MIDI controller, by clicking on the graphical keyboard or by selecting a preset.

Next, you will want to define your rhythmic pattern. While your host DAW is playing, click the button labeled "TAP" to tap in a custom rhythm. This can also be done using a MIDI controller when "MIDI TAP" is enabled. Alternately, you can choose a preset rhythm.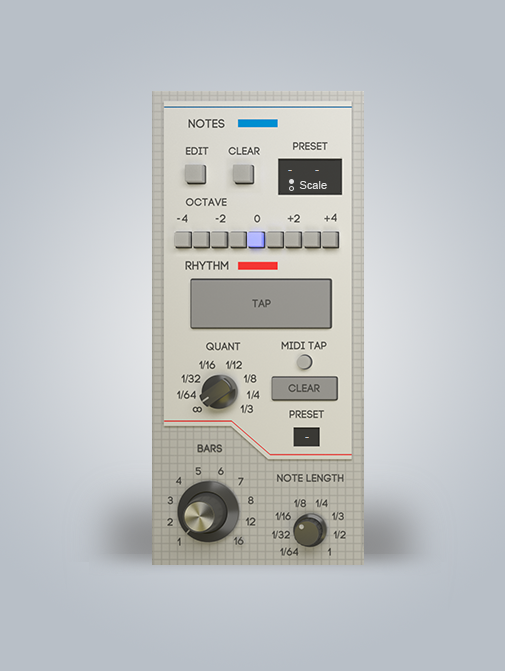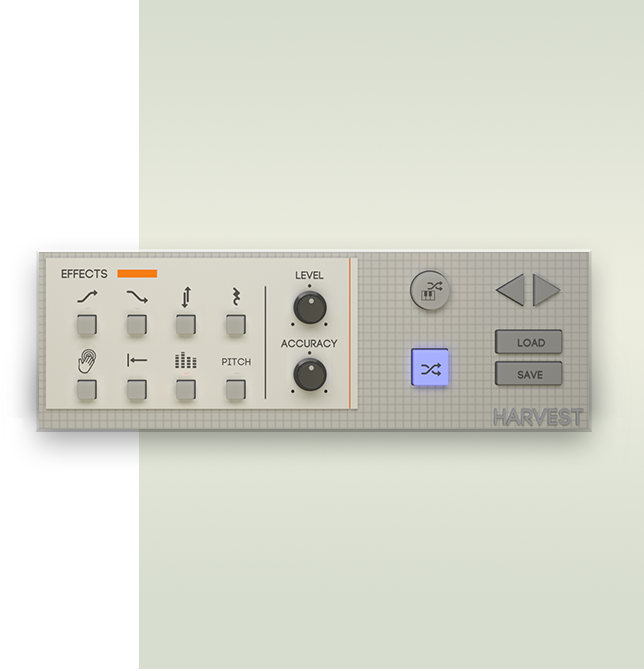 Tuning and Tweaking
How to make an algorithmic sequence sound natural
We want to use randomization, but we don't want to sound random. Harvest's effects are designed to influence the patterns Harvest creates in musical ways. With multiple parameters for each effect, you can make sure your sequences are unique to your own tastes.

Save your MIDI sequences easily by using the Save feature. Included is a History navigation of past sequences, so you don't lose something great. You can also Load existing sequences, and Harvest put its twist on it without having to start from scratch.


Make it Perfect
Features for the finishing touches
The robust Piano Roll allows you to take matters into your own hands when you need to. Click and drag notes or add and delete them using only your mouse. The Lock feature allows you to select notes to freeze in place, making them immovable until they are unlocked. This allows you to build one melody by taking the best of several, which is key for getting consistently good results.
Explore All Features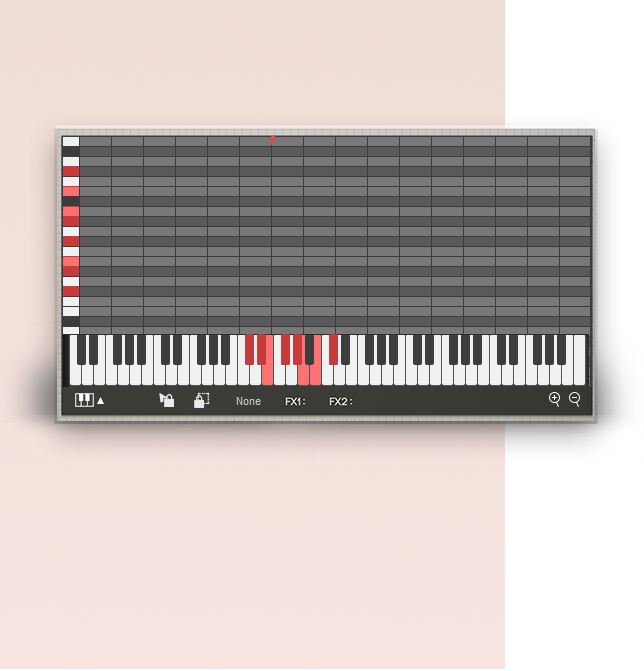 We want you to have a chance to take your music to the next level and try our product for 60 days. If you don't love it, simply contact us at support and we'll happily refund you.
Designed for All Levels
Use your ears when your hands come up short

The workflow of Harvest allows you to make decisions just by listening. It bypasses your muscle memory and allows you to focus only on what you hear. This works no matter how much experience you have. Additionally, preset note selections give you access to musical information which don't require much experience to use quickly.

Is it for you?
Will you benefit from algorithmic composition?


If you occasionally find yourself frustrated by writer's block, a new workflow can shake things up. If you aren't sure Harvest will work for you, consider trying it out the free version.
Try Mini Version Free
What it wont do
A computer program can't be creative the way you can

Harvest is not a substitute for creativity. To get creative results, it has to be used creatively. Harvest can be a source of inspiration, but ultimately the quality of what it generates will depend on how you use it.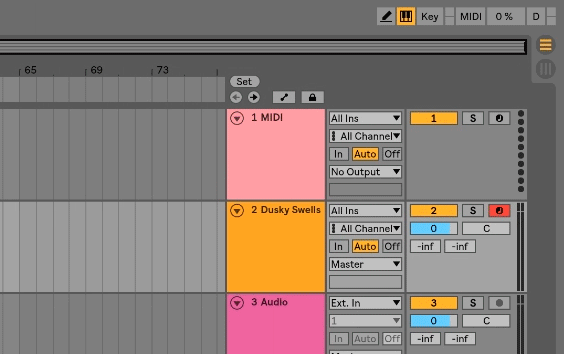 Setup
After you have completed the standard process of installing the plugin into your chosen plugins folder,

Step 1: Make two new MIDI tracks.
Step 2: Apply the Harvest-beta plugin onto one track, and apply your MIDI instrument of choice to the other.
Step 3: On the "Midi From" drop down on your instrument track, change from "All Ins" and select the MIDI track that Harvest is on.
Step 4: Still on the instrument track, change the "Monitor" setting from "Auto" to "In".
Step 5: Arm the Harvest track for recording.

Harvest Mini is now ready for use

TIP: We recommend creating a dedicated folder for MIDI clips created with Harvest. Having done this, you can save the folder and easily access your new MIDI clips in Ableton's browser.